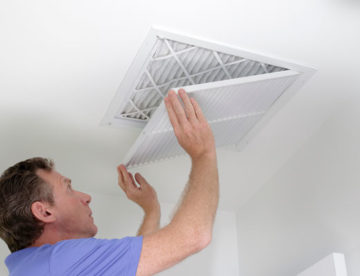 How Much Does Air Conditioning Repair Cost?
The cost of air conditioning repair can vary widely depending on the specific issues you are having with your HVAC system. On average, most Americans spend around $300 per visit from an AC repair company. Although $300 may be the national average, that number can significantly increase or decrease depending on whether your problem is an easy fix.
Can Location Affect the Cost of Air Conditioning Repair?
Due to the labor being more intensive in some areas or individual homes, your location can play a part in your AC maintenance cost. Generally, the national average mentioned above holds true when we service families in the surrounding areas of Vero Beach, Port St. Lucie, Stuart, and Martin County.
In most cases, your specific HVAC problem's repair cost will not change between areas within close vicinity.
Is There a Service Fee for Air Conditioning Repair?
HVAC professionals will usually charge a service fee when servicing their clients. This service fee covers the cost of labor and any materials the company uses while repairing your AC unit. Most companies' standard service fees fall within the $50-to-$100 range but can increase if the repair is the result of an emergency call or takes place during the weekend or a national holiday.
Does the Service Fee Change if I Live Far Away?
In most cases, if you are within our service range of Vero Beach, Port St. Lucie, Stuart, or Martin County, there will be no extra fee for distance. Some factors like the accessibility of your unit and vents, as well as the difficulty of the service performed, can cause the service fee to increase.
Most companies have a service range for the residential services they offer. If you are located a great distance outside of that standard service range, most companies will be unable to repair your AC issues.
How Much Does Yearly AC Maintenance Cost?
Yearly AC maintenance is essential to preserving the life of your unit and preventing problems in the future. The average cost of annual AC maintenance is around $100 to $150. Considering that this yearly check-up for your unit could potentially save you thousands in the future, we highly recommend getting your unit checked.
If you ever plan on putting your house on the market, yearly AC maintenance increases the likelihood that a home inspector will approve your unit.
How Much Does an AC Recharge Cost?
An AC recharge costs around $100 to $400 depending on your AC unit's size and the number of units that require service. This cost can also vary based on the refrigerant that we use during your AC recharge. Since there are frequently new regulations enacted, the price of the refrigerant product we use can also change.
What Are Some Signs That I Need AC Repair?
Many signs can tell you that it may be time to get your HVAC system checked out by a professional contractor. Some of the most common that customers report are new noises, ice on the unit, a foul smell coming from the unit, and air loss from vents.
If you experience any of these warning signs or notice a change in your unit's efficiency, it is time to call a licensed AC professional. Diagnosing and repairing the problem as quickly as possible can prevent further damage to your unit and save you money in the future.
We commonly see customers put off the maintenance of their HVAC system, only to find discover an easy fix that would have cost them under $200 has now turned into a major repair to the tune of $1000 or more. This is another reason why we always recommend staying up to date on your yearly maintenance.
What if I Cannot Afford to Pay for My AC Emergency?
If you have a significant emergency issue with your AC that requires a large job and fee to fix, you may not have the money readily available to cover the repair. Most AC companies offer financing because we understand how important it is for your family to have a safe living environment.
We know what it is like when you have a sudden emergency, and we are willing to work with you and provide alternatives instead of paying the full fee up front.
Contact us for your AC repairs and maintenance in fullest confidence that we will always provide you with honest work.
If you are in the vicinity of Vero Beach, Port St. Lucie, Stuart, Indian River County, or Martin County, we are the HVAC professionals for you. Contact us today for a repair, yearly maintenance, or an AC checkup.
Should I repair or replace my AC unit?
This is a common question among homeowners, and to decide, you need to consider several factors like the lifespan of the unit and its energy efficiency.
The last thing you want to do is purchase a new unit only to find out that your AC still has plenty of life in it and doesn't need to be replaced. To help you determine whether you need a simple AC repair or a new unit, let's weigh different situations and pros and cons.
When Should You Replace Your Air Conditioner?
While a new conditioner can be expensive, some of these signs suggest it is time to buy a new AC unit.
Your AC System is More Than 15 Years Old
You can expect an AC unit to last for 10 to 15 years, but if your AC system needs frequent repairs and is more than 15 years old, it is better to replace it. The new, improved models are more energy efficient and will provide additional comfort for your home.
Your Air Conditioner is Not Energy Efficient
If your AC unit is inefficient and has a poor SEER rating, it requires more energy to operate, increasing your monthly bills. All new air conditioners must have a high SEER rating (minimum of 13), so if yours is below the limit, consider purchasing a new, modern, energy-efficient system.
You Need Frequent Repairs
When facing a repair, consider the expenses of the AC repair against the costs of buying a new air conditioner. If you are facing frequent and expensive repairs, consider replacing your current AC system.
You Aren't Getting Cold Air
When you aren't getting cool air, chances are something is wrong with your HVAC unit. It could be a simple AC repair such as freon replacement or another more complex issue. If the repair is expensive and you need to buy extra parts to fix the damage, consider replacing the unit instead. If the technician suggests the repair is a simple or inexpensive job, choose AC repair instead.
Figuring out when to replace or repair your AC unit can be tricky, but with the right air conditioning company and professionals by your side, you'll have no trouble deciding what to do.
Benefits of Repairing Your AC System
If you choose AC repair instead of replacement, here are some of the benefits you'll enjoy.
Increased Air Quality
Most AC systems help you keep the air clean inside your home. These built-in filtration systems remove pollen, dust, and allergens from your house and keep them out. With regular AC repair, you can always keep the air clean.
Lower Humidity
When people think of AC, they think of a cooling system. However, the air conditioner is much more than that – this system also reduces the humidity level in the house. The lower the humidity levels are, the more comfortable you'll feel at home. Some AC units have features that lower the humidity without cooling or heating drastically.
Better Air Cooling
The parts inside the AC unit require regular maintenance and checkups to ensure they are clean and able to function properly. With AC repair, you will enjoy better cooling and feel more comfortable without worrying about the temperatures outside. Ignoring minor repairs can lead to more serious problems. Whenever you think something's wrong with your air conditioner, call your local technicians to inspect the issue and repair it quickly.
Peace of Mind
Some of the greatest perks of regular AC maintenance are knowing your AC system is in order and that it works properly and is energy efficient. In many cases, when something's wrong with the AC unit, homeowners decide to immediately replace the system without checking with air conditioning companies and AC repair experts. Whatever the problem may be, a professional and reputable company can fix the damage and provide peace of mind for you and your family.
Get Advice from Air Conditioning Experts
A professional plumber or electrician can tell you if there is life left in your AC unit or if it's time to get a new one. Amtek Air Conditioning serves Palm Beach, Martin, and St. Lucie counties, and welcomes anyone with AC repair or replacement problems.
Our company has a high reputation among local clients and serves as an example for other AC service providers due to professionalism, quality service, and affordable rates.
For more information, contact the Amtek Air Conditioning team at (855) 268-3524.