AC Repair and Replacement in Saint Lucie County
AC repairing service you can depend on in Fort Pierce and Port St. Lucie
If you live in St. Lucie County, we probably don't have to tell you how important a working AC unit is!  With an average high of 90° F in the summer months, and the added humidity, you are sure to notice as soon as your unit stops working!
But are you aware of the signs that can indicate a need for AC repair Saint Lucie before your AC unit breaks down? Responding to these signs right away can help you get AC repaired before it breaks down completely. You want to avoid putting yourself in a position where your unit is damaged beyond AC repair Fort Pierce, leaving AC replacement service as your only option.
Maintaining your AC unit is also vital in preventing sudden AC home repair and replacement. But, when you live in Florida, there will inevitably be more wear and tear on your units causing frequent need for air conditioning repair. Besides the fact that we use our AC units more throughout the year, our extreme weather conditions can cause damage to our units.
So it can be hard to determine whether you should be repairing or replacing your AC. Which will be the most cost effective in the long run? Let our experts at  Amtek Air Conditioning Inc. help guide you through the many factors of AC repair Port St. Lucie and replacement thus providing you top-tier AC repair service.
URGENT AC REPAIR SERVICE CALL US NOW: (855) 585-0219
Know the Signs that There is a Need for AC Repair
There is an old saying that an ounce of prevention is worth a pound of cure. This certainly rings true when referring to
AC repairing and services.
Have you found yourself asking:
Why is it warmer in my house?
Changing air temperature is one of the first signs that your AC unit is not working efficiently or properly. This can be caused by numerous things like a low refrigerant levels, a compressor that needs repair, or even duct issues. A dependable AC repair company can get to the bottom of this issue.
Top-Tier Air Conditioner Repair Service in Saint Lucie, Fort Pierce and Port St. Lucie
Amtek stands proud behind the top-tier air conditioner repair service offered in Saint Lucie County to Fort Pierce and Port St. Lucie homeowners. Emergency AC home repair service available. Financing options are available with no
credit check needed with up to 12 months of no interest. Bad credit? No problem! Air conditioner repair service is
easily ready for you today! Call Amtek at (855) 585-0219 for a free quote and you'll see why so many customers love Amtek Air Conditioning.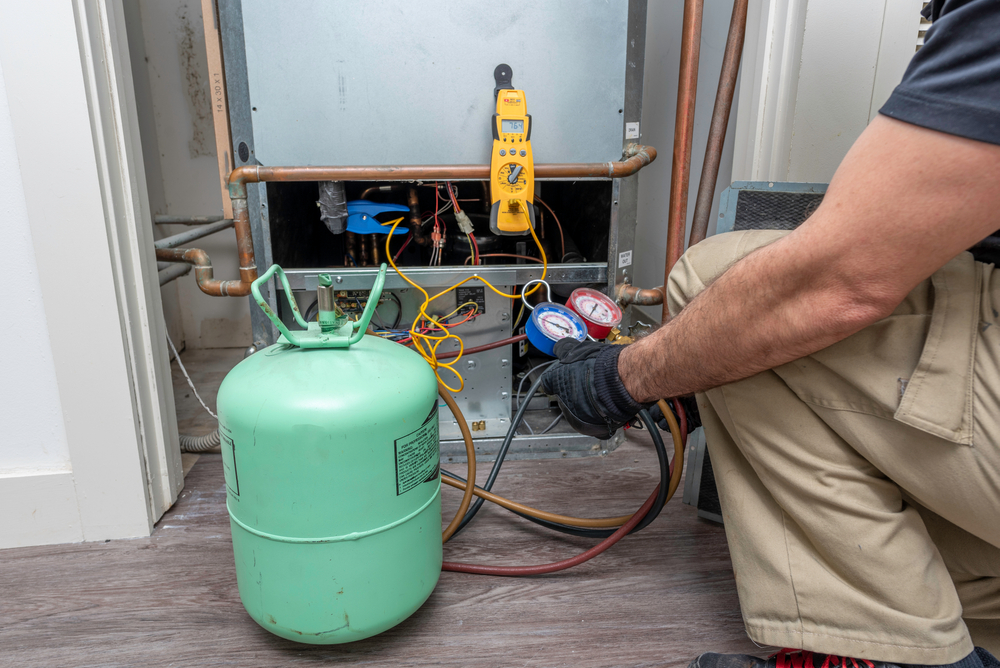 Why is my AC unit making that noise?
If your unit is louder than usual, or if it emits a "hum" you should turn your unit off and call for AC fix. It could be loose parts, but it could also indicate leaking refrigerant, which needs to be addressed quickly air conditioner repair service.
My AC is on but it seems humid in here?
In Florida, we need our AC to decrease the natural humidity. So if you notice that it is getting more humid than usual, despite the unit running, it is an indication that your AC unit is not working as efficiently as it should.
Air conditioning repair you can trust in Fort Pierce and Port St. Lucie
Air conditioning repair can often scare people because of the unknown. Amtek has been in the business for over 20 years. We may not be the cheapest, but you won't find a more reputable high quality air conditioner repair service around. We service all makes and models and ensure that your unit will keep you happy for a long time!
How to Choose Between AC Repair and AC Replacement
Eventually, AC replacement will become your most cost efficient, – and sometimes your only – choice.
So how do you know when it is time to make that choice? If you have an older unit, or if your system needs repairs often, it may be time to take the plunge.
You can trust the air conditioner repair service at Amtek to steer you in the right direction. We will do a thorough investigation and give you the bottom line: Is it a simple repair? Or is it time to replace?
Do you need a simple AC home repair or an AC replacement?
So the minute you find yourself asking, "Should my AC be doing this?" it is time to call the experts at Amtek Air Conditioning Inc. for AC repair and replacement in  Fort Pierce and Port St. Lucie.
Amtek provides Fort Pierce and Port St. Lucie AC home repair at the highest level. 10 years warranty offered on all duct work (this unlike our competitors), 1 year on repairs, and 60 day warranty on all maintenance.

Why you should go with AMTEK?
Professional

Affordable

Reliable
CUSTOMER REVIEWS
I would highly recommend this company!

-Tamara H.
My elderly father in Fort Pierce has a maintenance contract with Amtek and is VERY happy with this company! They are always available if there is a problem, efficient in their work. Kind and friendly - taking the time to explain thoroughly what needs to be done or what issue they have resolved
Hats off to you guys hope to use you again for other services

-Jason F.
This company is the best Air Conditioning company to use in the treasure coast area. Bottom line they beat out 4 other companies for the air conditioning and duct change out. The owner got the job done with his very experienced crew in a very timely matter. If you need work done I would look no further next time and will use this company again I. Future needs with electrical and plumbing. I only say this because my experience working In the field of HVAC in Port St. Lucie, and see that everything was done correctly.
I would highly recommend this company!

-Tamara H.
My elderly father in Fort Pierce has a maintenance contract with Amtek and is VERY happy with this company! They are always available if there is a problem, efficient in their work. Kind and friendly - taking the time to explain thoroughly what needs to be done or what issue they have resolved