For All Your AC Repair Needs in South Palm Beach County
Your Air Conditioner Repair Service in Boca Raton, Delray Beach, Wellington, and Lake Worth
What is the best way to beat the summer heat here in South Beach County?
There are safety precautions you can take to lower the chances of needing immediate AC repair South Palm Beach County.
You make sure to know how to contact the best AC specialist & AC repair Boca Raton the moment you notice your cooling system isn't working properly.
In Florida, we depend on our AC units to keep us comfortable no matter the extreme weather we are experiencing. So when you need help in AC repair Delray Beach for keeping it cool,  Amtek Air Conditioning Inc. specializes in ac repair and guarantees your satisfaction.
We offer free evaluations by one of our air conditioning specialists to get to the root of the problem. And if you need a replacement, you can count our AC technicians to find the perfect fir for your needs.
With our commitment to customer service and our experience, our mission is to make AC repair Wellington and AC replacement an effortless process for you!
South Palm Beach AC Repair Service: (855) 585-0219
The AC Repair and Replacement Experts
Does your AC unit seem to need constant air conditioner repair service? Do you find yourself wondering if it might just be cheaper to get an AC replacement?
It actually might be!  But how do you know for sure? If you feel like your AC is not cooling like it once did, it is likely not working as efficiently. While there may be some ac repair that can help with this, it may also be due to the unit wearing down
If your unit is 10-15 years old (or more) a new unit can save you money. Older units are not as efficient as new models that make use of recent technologies.One sign that your unit is aging is if it still uses HCFC-22, which is a refrigerant being phased out.  New units utilize R410A, which is more efficient.
If you smell odors coming from your AC unit, it needs to be checked by an AC mechanic. In particular, musty or moldy units are an indication that your unit is rotting inside and needs to be replaced.
If you have noticed any of these things, call Amtek for AC repair lake worth so one of our AC specialists can come out and do a thorough evaluation. AC repair options will be provided to you, going over the benefits of repairing or replacing your system. Our experts are here to guide you from the beginning of the project and beyond!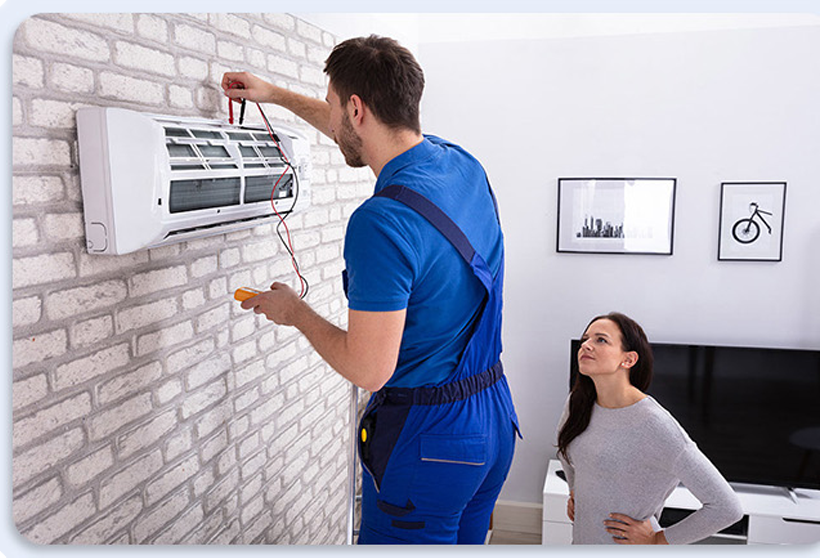 The Many Advantages of a New AC Unit
An AC replacement might seem like a stressful project, but Amtek is here to make it go smooth. So you can sit back and relax and enjoy the many benefits of having our AC specialists complete a new install.
With new technology, new AC units last longer than ever with less maintenance. You can expect to enjoy your new unit for 15 years. And the technology has also helped to create systems that run quieter.
That technology also helps you save money in the long run. The more efficient units will reduce your carbon footprint and your electricity bill.
And don't forget that your new unit comes with a warranty which has the potential to save you hundreds of dollars.
Even better news, is that Amtek offers financing options to allow you to resolve your AC needs without the hassle of worrying about large expenses or pesky credit checks.
Keep Your Air Conditioner Running for Years To Come
When you purchase a new AC system from Amtek Air Conditioning Inc. we are not just selling you a unit. We create a package that takes care of your AC needs for the long term including air conditioner repair service.
Our commitment to customer service, coupled with our industry expertise have earned us an A+ rating with the Better Business Bureau. And our reputation speaks for itself!
Call us today for a no obligation inspection of your AC system & AC repair!
Let us help you beat the heat in Boca Raton, Delray Beach, Wellington, and Lake Worth with our air conditioning repair.

Why you should go with AMTEK?
Professional

Affordable

Reliable
CUSTOMER REVIEWS
Outstanding work in Boca Raton

-Albert P.
Pricing is very resonable and their work is always amazing. It is so wonderful to have such a great ac repair company that is honest and professional!
Don't use anyone else

-Barb N.
We shopped around to fix our Wellington air conditioner unit and amtek was able to save us thousands of dollars while providing us with their amazing service to fix quickly and efficiently. So grateful and appreciative, thank you for being such an amazing company.
Amtek saves the day!

-Juan D.
You guys are amazing! our HVAC in Delray Beach needed to be repaird quickly and Amtek was there within an hour! They assesed our situation and fixed it at the price they quoted with no hassle and no problem, and now it's like new! What would we do without you?!