Call the AC Technician at Amtek For AC Service in Parkland, Pompano Beach, Deerfield Beach, Fort Lauderdale, and Davie
When you live in Parkland, Pompano Beach, Deerfield Beach, Fort Lauderdale, or Davie, your comfort depends on your AC unit's performance. When it isn't working like it should, everything seems to slow down and you will need an AC mechanic.
It is such an integral part of our daily life. So what happens when your AC unit needs repair or maintenance or, worse yet, breaks down? You need to know who you can call to help you get it back online.
When your cooling system falters, call Amtek Air Conditioning Inc. for to get an AC technician. Our AC technician will come out for a free evaluation, making sure to check the entire system to root out the problem.
Our expertise coupled with our commitment to customer service will make you glad you called Amtek.
Broward County AC Specialist: (855) 585-0219
I need an AC Repair and Need an AC Technician Again!
Amtek is happy when we can tell you it is a simple repair, and our AC mechanic will make arrangements to fix it. But if your AC unit has needed repairs multiple times, it may be more cost effective to purchase a new unit. Here are some additional signs you should look out for. These signs may be telling you it is time for an AC replacement!
Insufficient cooling: Not only will your house seem warmer and more humid, but your electric bill will go up too.
Older unit: Is your unit over 10 years old? Some older units still use the refrigerant HCFC-22, which is no longer being used. R410A, a more efficient refrigerant, is the new standard. An upgrade will save money, and be better for the environment.
Musty or moldy odor: When the inside of your AC unit begins to rot, this smell will be your best indicator.
Maintenance will not solve this problem.
So if your old system is giving you these signs, call an Amtek AC mechanic. Our full evaluation comes complete with an accurate diagnosis that will make it clear whether it is best to repair or replace.
Amtek offers top ranked AC specialist in Parkland, Pompano Beach, Deerfield Beach, Fort Lauderdale, and Davie. Call (855) 585-0219 now to talk to an AC specialist and have your AC fixed or replaced as soon as possible.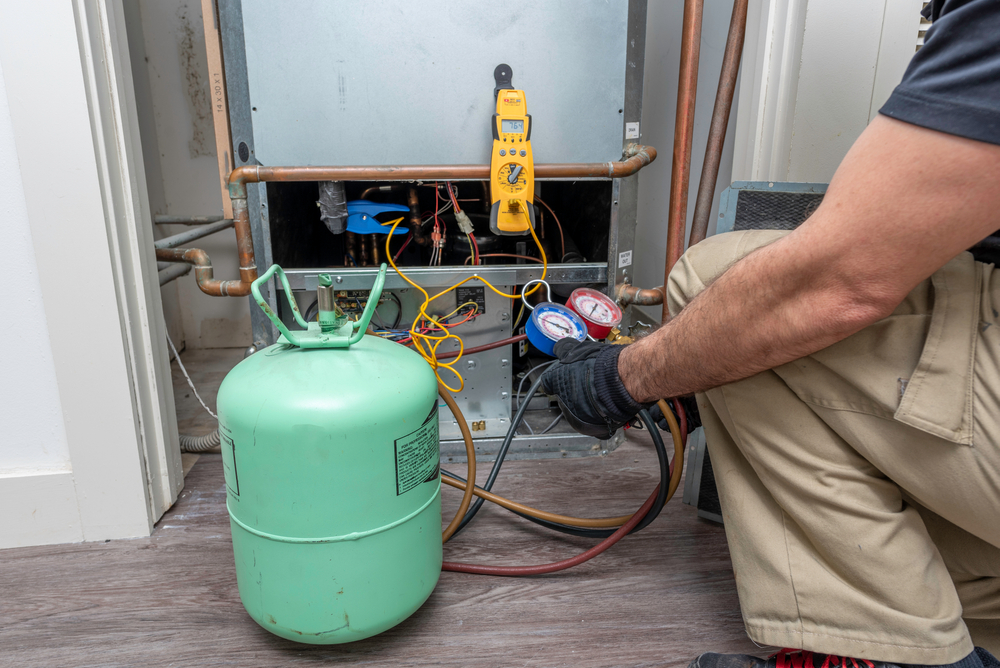 Relax With the Many Perks of a New AC Unit
The thought of a new AC install may seem like it will be stressful, but with Amtek's AC service and AC mechanic on your side it will be a breeze. So you can sit back and enjoy all of the perks that a new unit brings!
● Longer AC Life New AC units last an average of 15 years.
● Less Maintenance Who doesn't love less work?
● Quieter New units run with less noise.
● The Warranty So you don't have to worry if something does malfunction.
Sounds relaxing, right?
A longer lasting unit that is more efficient means you will have a smaller carbon footprint for years to come.
Remember to Save Our Number
Whether you need AC service or a AC technician now, or you want to be prepared for any future AC mishaps, you want to be sure to keep our contact info on hand.
You do not want to take the chance of calling the wrong AC service, which puts you at risk for services that are not as thorough.
Amtek Air Conditioning Inc. is the only call you need to make. We won't sell you more than you need.
With 20 years of experience in this industry and an A+ rating with the Better Business Bureau, Amtek is the company you can trust for AC repair, maintenance and replacement.
So remember to call us if you need an AC specialist in Parkland, Pompano Beach, Deerfield Beach, Fort Lauderdale, and Davie.

Why you should go with AMTEK?
Professional

Affordable

Reliable
CUSTOMER REVIEWS
Best AC Home Repair Company!!

-Ken A.
We've lived in South Florida for over 30 years now and we always had issues trying to find a good reputable and trustworthy AC Repair company. Either they were too expensive, or not reliable, or used low quality parts, or poor service. I can honestly say that Amtek is different from the rest. They are honest and they stand behind their word and reputation. Their prices are reasonable but most of all, I know I can trust them with quality work. They come in and check everything to make sure we won't need recurring visits every week or month to follow up. They spend their time to check and fix everything in the best way possible. We have been using Amtek now for 5+ years and are recommending their AC home repair to all our friends and family.
We love AMTEK!

-Hagan Family
Broward County is full of fly of the night companies here one day and gone the next. We live in Pompano Beach and we have two AC units in our house. Air conditioning for us is not just a luxury, but a necessity! If the AC breaks down, we go crazy and we know that we can always trust AMTEK to be there for us when we need them. Day or night, weekday or weekend, we have peace of mind that AMTEK has our back and our house will always stay cool.
Thank you amtek for amazing service

-Rebecca F.
I wanted to write this review to thank you for the amazing ac repairing work that you did at our house in parkland last week. you came quickly, gave an accurate assessment and fixed it within the time and cost that you promised. this means a lot to us. your air conditioner repair service is the best i've ever used.