PAYMENT & FINANCE OPTIONS
RESIDENTIAL & COMMERCIAL

156 GOOGLE REVIEWS A+ BBB ACCREDITED
Any Water Heater & Generator Service
$ 50 OFF
Get Deal Now!
Receive Coupon

Which Service Do You Need Help With?
5-Star Generator Services in Parkland, Pompano Beach, Deerfield Beach, Fort Lauderdale & Davie
Amtek has been providing generator services in Parkland, Pompano Beach, Deerfield Beach, Fort Lauderdale & Davie for many years. It's never a good idea to try to repair a malfunctioning or faulty generator yourself. You should only hire experts for the job that you know will do a good job for you. Amtek provides emergency generator services 24 hours 7 days a week. We have a team of experts who are knowledgeable, experienced and have the right training and certification. Our technicians are certified and insured so that you don't have to worry about anything except how will you spend the money that you saved on hiring the best generator services.
When Amtek comes to provide you with generator services, we handle all the heavy lifting so that you don't have to worry about a thing. Our professional turnkey generator services will ensure that all aspects of your generator are as needed. This includes ensuring that your system is not faulty, checking that the electric connections and current are as it should be, making sure the battery won't die on you, checking for coolant leaks, low fuel levels, ensuring oil is appropriate so that engine won't burn out, filters, and etc. If you're hearing a noise from your generator or if you haven't run your generator in a long time or if you have any concern at all, it's better to be safe than sorry and have our technician come and check your unit. Our generator services will ensure your unit will provide you with the peace of mind you want.
Don't Have A Generator Yet and Looking for new Generator Installation?
South Florida is known for heavy storms and the occasional power outages. Regardless if the electric outages last for hours or days, you want to have a backup generator unit that will provide you with the resources to stay comfortable and safe. A generator will be installed outside of your home or office and will be ready to automatically turn on in the instant that your power goes out. It will utilize the power from your home to continue to run your lights, appliances and whatever else you need. Financing is also available to make your new generator installation affordable and convenient for you.
A standalone generator unit is advntagous over a portable unit because there are not connections that you need to worry about, you don't need to know how to turn it on since it does it by itself, and the risk of carbon monoxide is reduced as well. Not to mention that the high-tech units that our generator installation team has available, will also allow you to monitor the unit and have additional modern controls that portable units don't have. Portable units are also more prone to break down and they offer less power in most cases. Get a new generator installation and have dependable backup power anytime of year. We offer units from the leading manufacturers, providing high performance and top convenience. Whether you live in Parkland, Deerfield Beach, Davie, Fort Lauderdale or Pompano Beach, our generator installation team is standing by to make sure your family or office has the power necessary during a storm or electrical outage.
CALL US NOW : (855) 585-0219
Emergency Generator Services Available 24/7
Speak with an agent for free to answer any questions
In Need of Water Heater Services?
Regular inspection and maintenance of water heaters are essential to avoid big issues down the line. However, water heater emergencies can happen at any time. If you notice any of the following signs, contact Amtek for emergency water heater services in Broward County.
Smell
Strange smells are a sign of potential malfunction issue with your water heater. Amtek experts will conduct a thorough inspection to locate the source of problem and repair the unit as needed.
Noises
Hearing strange noises coming from your water heater may be a result of sediment buildup. You can try to fix this problem by flushing the water heater. However, if the buildup is too big to remove, you may need professional help to repair or replace the water heater.
Water Leaks
Is your water heater breaking down or not providing hot water in the whole house? Are you seeing visible water leakage? This is a sign that repair or replacement might be needed. Don't ignore the signs and causes of water leaks, including:
overheating
a bad gasket
a leak from a nearby plumbing connection
a stuck valve
improper water pressure
a faulty temperature and pressure (t&p) relief valve
Our water heater services team has the experience, knowledge, and equipment to help you solve any related issue.
Discolored Water
Rusty or discolored water can be a warning sign of corrosion of your tank's inner lining. This means your water heater requires repair and maintenance. Not to mention, contaminated water can lead to serious health issues. Contact Amtek in cases of needed repair or any emergency that may come up.
Running Out of Hot Water
If you have a malfunctioning water heater (tank or tankless), you may face water temperature issues, such as cold water, warm but not enough hot water, or too hot water. You can contact Amtek any time of the day to solve this problem. Amtek offers reliable and trustworthy emergency water heater services in Fort Lauderdale and nearby areas.
CALL US NOW : (855) 585-0219
Need a New Water Heater Installation? (Tank or Tankless)
Contact Amtek water heater installation pros to sustain your hot water source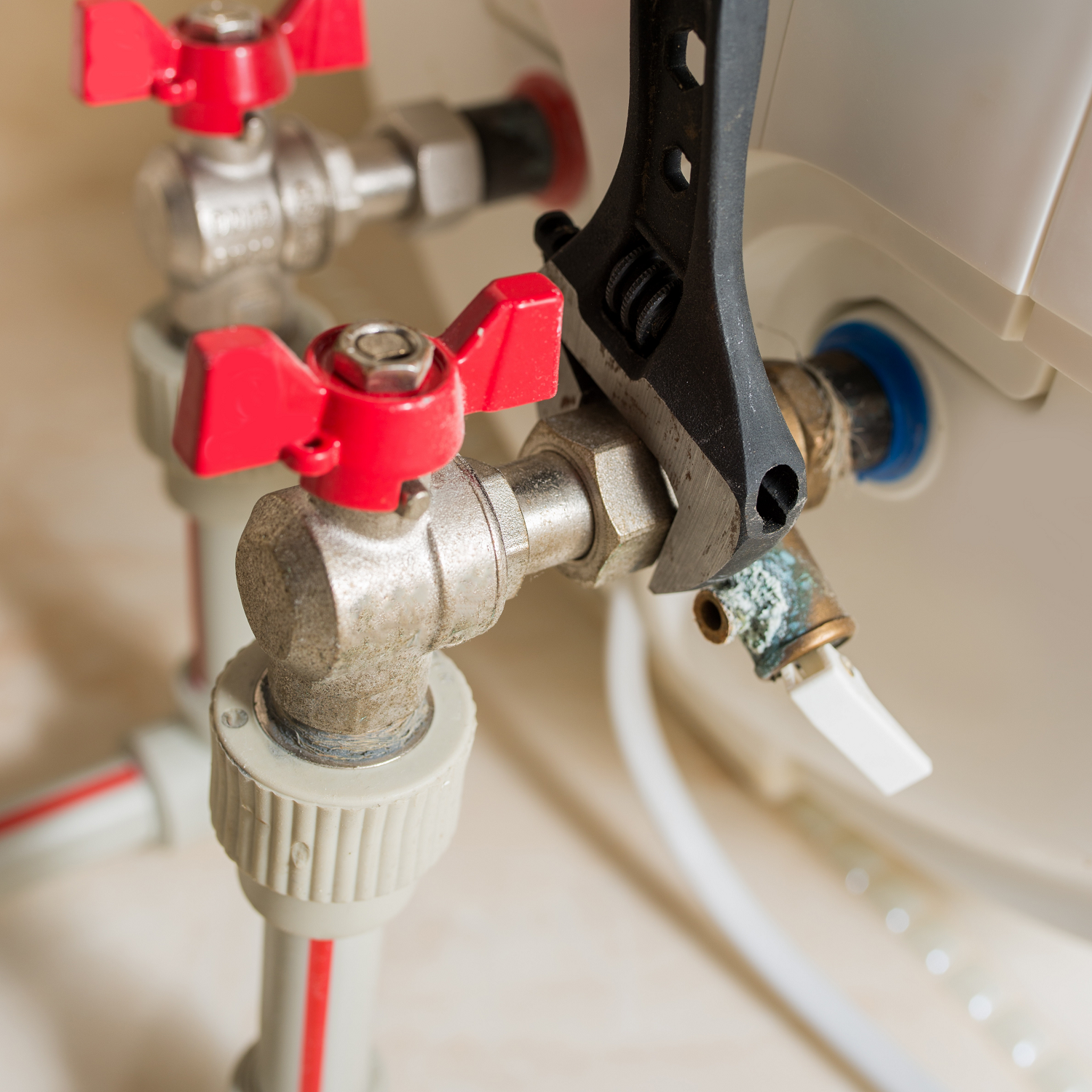 A New Water Heater Installation Doesn't Have to Cost a Lot
Did your water heater decide to stop working on you? Is your unit beyond repair? Or maybe you just need a brand new unit? Amtek provides professional and trustworthy water heater installation services anywhere in Pompano Beach, Fort Lauderdale, Parkland, Deerfield Beach or Davie. We even have an emergency team available around the clock. We ensure that the water heater that we install will not be a source of headache for you anytime soon. We have you covered for all your water heater repair, maintenance, and installation services for residential and commercial needs.
Our warranties are proof of our service quality. We offer a one-year warranty on all repairs and a 60-day warranty on all maintenance procedures. Why should Amtek be your first choice for water heater installations in Broward County? We have experience of over 20 years with a commitment to ensure customer satisfaction. Read our reviews and see why we have a A+ grade with BBB. We strive for satisfaction and work hard to make sure that our technician doesn't leave until you're happy. Call us today.
Why Amtek?
24/7, 365 Emergency Service
Not all emergencies happen during normal business hours, which is why we are here for our customers, 24 hours a day, 7 days a week, 365 days a year.
100% Satisfaction Guaranteed
We back up all of the work we carry out. If you are not satisfied for any reason, we'll do everything we can to make it right.
On-Time Arrival
We won't keep you waiting because we value your time. We take pride in our reputation for on-time arrival and fast turnarounds.
Upfront Pricing
We charge by the job, not by the hour so you know exactly what to expect before we start any work. No hidden fees and no surprises!
What Our
Customers Are Saying
I called Amtek on the recommendation of my neighbor. He had just had a new tankless water heater system put in his house. After being told how the tankless water heater had noticeably cut their utility bills, I called to find out more about them. The entire staff is friendly, professional, and efficient. As a single mom cost and efficiency are important. From the office staff to the laborers, they were great with answering all my questions and explaining everything in a manner I was able to easily understand. Once they were finished installing my tankless water heating system, they were careful to leave any area they worked in as clean as when they arrived. I love the savings and convenience of my new water heater. If you are looking for a new water heater, give Amtek a call and discuss which options would fit your family best!
When I had my new home built, I chose Amtek to install an emergency generator. I wanted a generator back up so that I would not have to worry about interruptions in my electric service due to storms and power outages. Went with the traditional hot water heater because I felt it best suited the needs of my small family. In addition to assisting was the best option for my family. They also take great care to leave our home in the same or better condition than when they arrived. We have been in our new home for 6 months now and have not had any problems with our generator or hot water heater. I would highly recommend Amtek to anybody who wants fast friendly helpful service. In addition to having a 24/7 emergency service and a few different payment options to choose from answering questions sand discussing various features and options seems to be a very enjoyable available with the chooses that you are considering.